---
New energy vehicle intelligent environmental protection coating equipment technical achievements have been evaluated
---
With the improvement of consumers' requirements for product performance, and in order to prolong the service life of products, more and more products use surface treatment operations; Guangdong Chuangzhi Intelligent Equipment Co., Ltd. (Attractivechina) uses independent research and development technology to develop an energy-saving and efficient The complete set of technology for intelligent and environmentally friendly coating equipment for new energy vehicles can meet the rapidly growing market demand for new energy vehicles in the future and bring economic benefits to enterprises.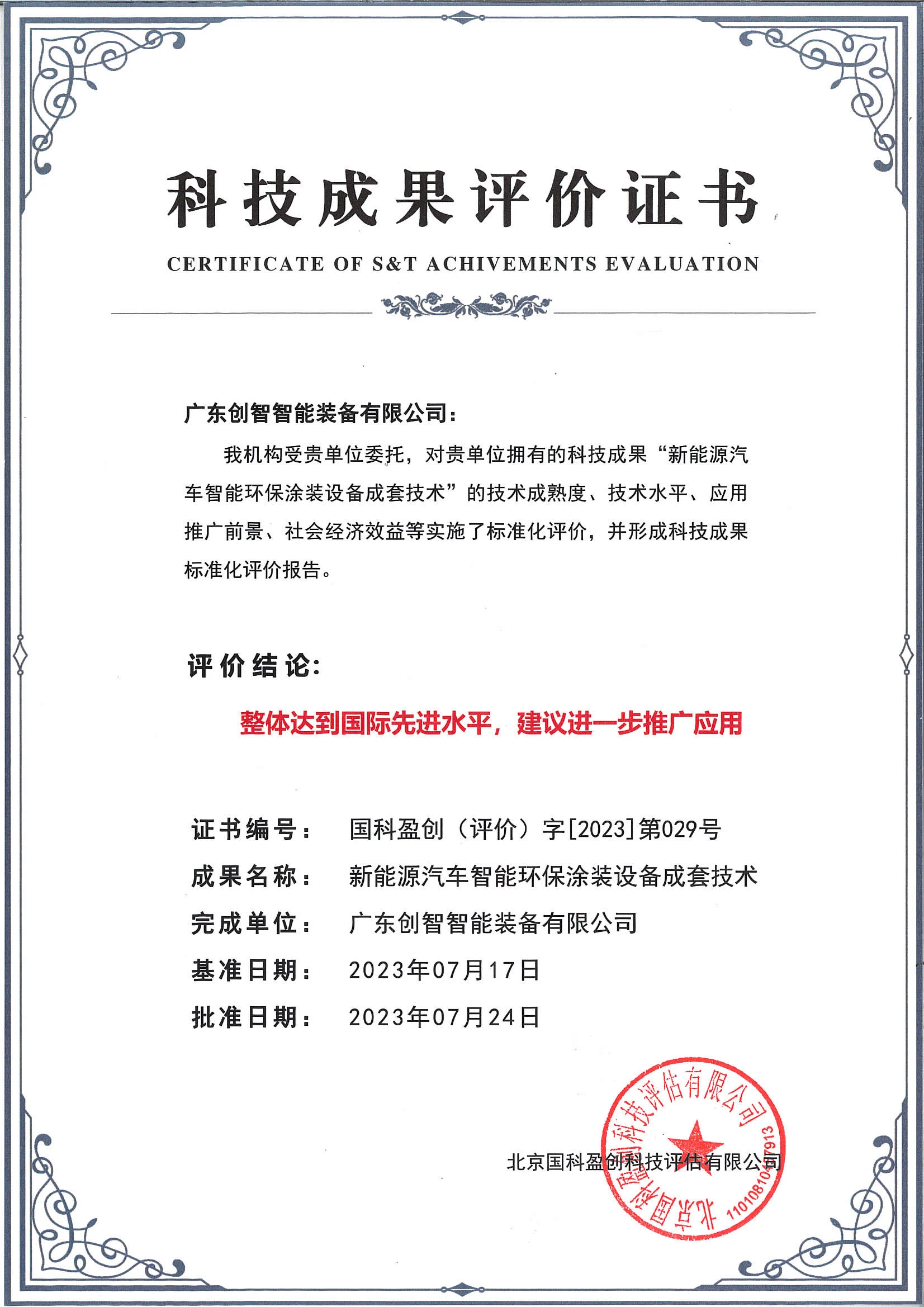 On July 24, the expert evaluation report on the scientific and technological achievements of the complete set of technology for new energy vehicle intelligent environmental protection coating equipment: the overall reached the international advanced level, and it is recommended to further promote the application.
The main research content and results of the product:
1. Immersion pretreatment and powder coating line
This achievement is a production system for new energy automobile parts "immersion pretreatment and powder spraying line". Dry furnace and other advanced equipment have achieved a smooth coating with high adhesion and uniformity in one spraying.
2. Ring automatic painting production line
The self-developed patented and self-calculated production system is used for the pre-treatment processing and spraying of new energy vehicle parts, from product processing washing, drying, flame treatment, white dynamic dust removal to automatic spraying and film integration, with dehumidification and drying Advanced equipment and devices such as energy-saving furnace system, rotary air outlet device, compact multi-axis spray gun device, vertical spray device and multi-station robot coordinated spray system can obtain products with high coating thickness uniformity and bonding strength.
Experts believe that the results are in-depth research on immersion pre-treatment and powder spraying lines, annular variable speed automatic spraying production lines, etc., and a collaborative spraying method, system, device, platform and storage medium based on multiple robots has been formed. The collaborative cooperation between robots can reliably complete complex tasks that cannot be completed by a single robot, improve production efficiency, and realize energy-saving, high-efficiency, and high-precision spraying.
The main innovations are as follows:
1. Adopt intelligent production line data acquisition and feedback closed-loop control device, which improves production efficiency and production safety.
2. By setting the heat pump device, the energy saving and time saving in the dehumidification process are realized, and the production efficiency and production safety are improved. The powder is fluidized by electrostatic air, which solves the problem of uneven thickness caused by traditional coating.
3. Improve the coating quality, spraying efficiency, safety and stability in the spraying process by improving the process and process equipment.
During the research and development period, this achievement has been authorized 5 invention patents, 25 authorized new-type patents, 5 authorized appearance patents, 5 authorized software copyrights, and 2 enterprise standards. The products produced are in CRRC Meishan Vehicle Co., Ltd. Zhongche Auto Parts Co., Ltd., CRRC Changjiang Tongling Vehicle Co., Ltd. and other companies have been applied, and customer feedback is good. This achievement has improved the technical level of automated coating equipment and related industrial chains, and has significantly promoted the development of common key technologies. This product has strong market competitiveness.
undefined