---
Guangdong Chuangzhi won the 2019 National Intellectual Property Advantage Demonstration Enterprise Review and Publicity
---
According to the "Notice of the Office of the State Intellectual Property Office on Organizing and Carrying Out the 2019 National Intellectual Property Demonstration Enterprises and Dominant Enterprises' Application for Examination and Review" (Guo Zhi Ban Han Yun Zi [2019] No. 604), The "Plan" and "National Intellectual Property Advantage Enterprise Cultivation Work Plan" required that the official website of the State Intellectual Property Office published the list of national intellectual property advantage demonstration enterprises in 2019 and the national intellectual property advantage demonstration enterprises passed the re-examination list, and the 2019 national intellectual property advantage demonstration Guangdong Chuangzhi is one of 274 companies in this list.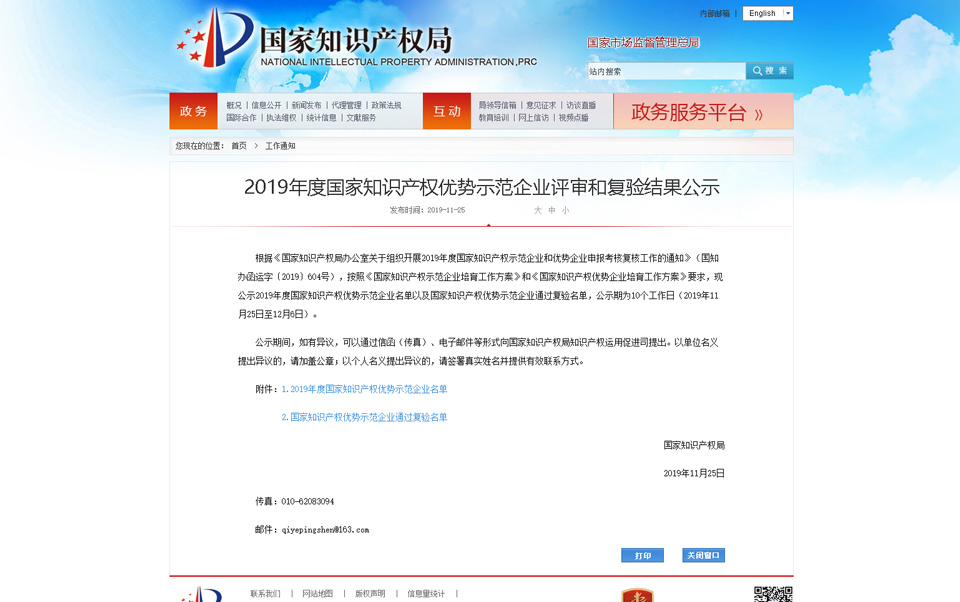 Intellectual property rights, also known as "knowledge ownership rights", refer to "exclusive rights that the right holder has in accordance with the law in the marks and reputations of his intellectual labor creation and business activities," and are generally only valid for a limited time. Intellectual creations such as inventions, designs, literary and artistic works, and signs, names, and images used in business can be considered intellectual property rights owned by an individual or organization.
The national intellectual property demonstration and evaluation of advantageous enterprises comprehensively evaluate the intellectual property strength of enterprises from the four dimensions of intellectual property creation, utilization, management, and protection. The aim is to strengthen the technological innovation capabilities of enterprises and cultivate a group of independent intellectual property rights and international competition. China's leading intellectual property company.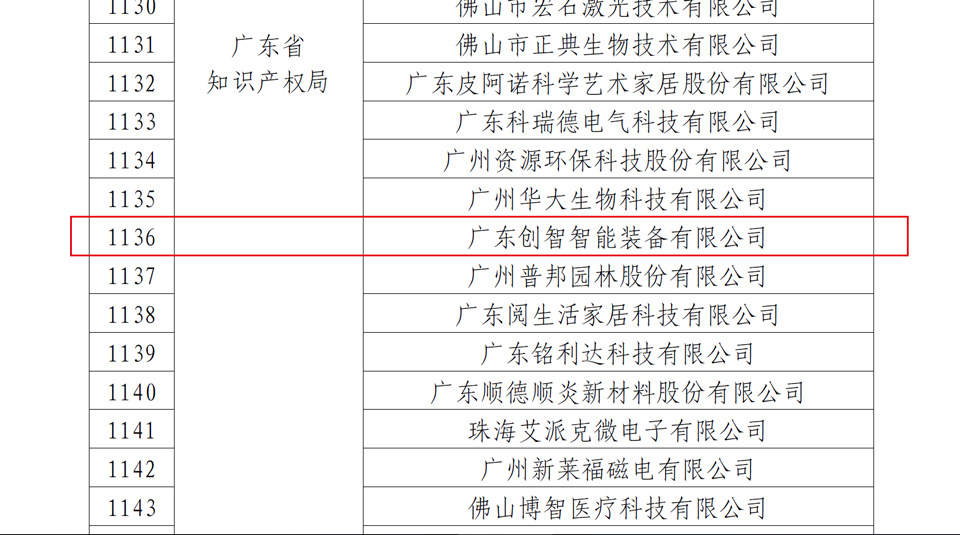 It is not easy for Guangdong Chuangzhi Intelligent Equipment Co., Ltd. to be recognized as a "National Intellectual Property Demonstration Enterprise"! We all know that the application conditions for national intellectual property demonstration enterprises are very harsh. Enterprises must first be recommended to the National Bureau by the municipal and provincial levels and pass the assessment of the National Bureau for 3 consecutive years in order to be eligible for declaration and certification. The evaluation is strict, the competition is fierce, and the best is selected. In the 2019 annual review, Guangdong Chuangzhi was identified as a "National Intellectual Property Demonstration Enterprise". On the one hand, it highly recognized the intellectual property management work of Chuangzhi, on the other hand, it also reflected the company's good technological innovation ability and outstanding comprehensive competition. The advantages have brought a lot of convenience to the future development of intellectual property work.
In the future, Attractivechina will make persistent efforts to continuously improve the company's own technical level and intellectual property protection, and provide customers with better technology and services! Contribute to the development of the coating industry!
Guangdong,Chuangzhi,2019,National,Intellectual,Property,Advantage,Demonstration,Enterprise,Attractivechina